Sodexo meal cards will be used in the widest network of restaurants in the country
July 22, 2015
Sodexo offers the largest network of affiliated units for the meal cards covering over 85% of the country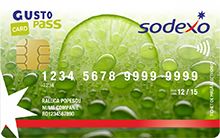 Bucharest, July 22, 2015 - Sodexo, co- lider of vouchers market, expands the network of affiliated units for its Gusto Pass meal cards and announces first partnership with HORECA units. A part of the restaurants, pizzerias, places to eat at lunch   and patry shops cafes in which consumers can use the new electronic vouchers issued by Sodexo are Pizza Hut, Pizza Hut Delivery (online orders & delivery), KFC, Paul, City Grill, Caru cu Bere, Hanul Berarilor, Pescarus,  Salad Box  and Oro Toro by Osho.

"We expanded our network of retailers that accept the new Gusto Pass electronic meal vouchers  with the first partnerships with restaurants chains, providing not only the biggest network of affiliated units and lunch places, but also the most varied network", says Jean ISTA, CEO Sodexo Romania.

"Based on «Tehnology for Humans» concept, Gusto Pass meal cards combine the advantages of the vouchers' charging system with a modern system, easy to implement for our corporate customers and easy to use by their employees."

The largest network of retailers
The new Sodexo Gusto Pass card network already includes over 3,000 retails units and places to eat at lunch  covering over 85% the country. The network will continue to expand, resulting in the largest network of affiliated units for both the electronic and printed vouchers, thus keeping the national leader status Sodexo has been holding for the last 16 years since the company activates in Romania.
Now the network of retailers that offer access to Gusto Pass meal vouchers issued by Sodexo is over 66,500 retail units.

New Gusto Pass cards
The electronic meal vouchers are dedicated exclusively to the employees individual food allowance and can only be used in the catering units with proper technical equipment which are under contract  with the issuing units. The Sodexo Gusto Pass vouchers are being issued under a MasterCard license. They are contactless and incorporate the chip&pin technologies.
Sodexo estimates in the first year since launching the electronic vouchers about 8% of the total meal vouchers will be issued on card format and in the first 3 years the volume of electronic meal vouchers will reach 30%. Globally, Sodexo group offers 65%-70% of its vouchers on cards. 
Sodexo in Romania
From 1998, the Romanian Sodexo Group, which currently has 734 employees, offers services that improve Quality of Life:
- Benefits for Employees:
- Incentive Programs
- Public Benefits
- Food / catering services
- Facilities' Management.
Sodexo, world leader in Quality of Life Services:
The Sodexo Company, the 18th worldwide employer, was founded in 1966 by Pierre Bellon, in Marseille, France and is the global leader in services that improves Quality of Life.
Operating in 80 countries, the Group's 420,000 colleagues are sharing the same passion in offering services. About 75 million people benefits of Sodexo services.
We trust that a better quality of life increases the satisfaction and motivation of individuals, thus playing an important role in the organizations' performance, which are our strategic partners. 
Key figures 
• 18 billion euro in consolidated revenues
• 420,000 employees
• 80 countries
• 32.700 sites
• 75 million consumers served daily