Sodexo: the volumes of gift vouchers offered by companies on the occasion of 8 March are up with 50%
February 27, 2015
• About 45% of companies which offer gift vouchers within the 1 to 8 March timeframe are operating in the industrial sector, services and distribution • The majority of employees receiving gift vouchers intend to use them to buy cosmetics (40%), clothing (18%) and jewelry (7%) • Companies that offer gift vouchers receive consideration deductibility within the 2% ceiling from the wage bill of staff

BUCHAREST, February 27, 2015 – Sodexo company, top player on the Romanian ticket market, identified, after an assessment conducted among companies that provide fringe benefits to employees, the main trends in the use and provision of gift vouchers on the occasion of 8 March holiday. The research was conducted on a sample of approximately 1,000 companies, between February 1, 2014 - February 15, 2015.

Over 45% of companies offering gift vouchers to their women employees on the occasion of 8 March are operating in the industrial sector, services and distribution. Among top three industries offering gift vouchers are companies activating in distribution (20%), chemical industry and metallurgy (15%) and consumer goods industry (10%). Most companies (52%) who offered this fringe benefit their workers have between 1 and 19 employees. Over 27% of companies are based in Bucharest and Ilfov County. 

Volumes of gift vouchers offered to female employees within 1- 8 March 2014 increased by almost 50% compared to the previous year. "We see an increasing trend year by year in the number of companies offering gift vouchers to their workers around the 8th of March date," says Jean Istasse, CEO Sodexo Romania. "We have all the prerequisites to estimate the increase in the number of companies that will offer Pass gift vouchers this year to their workers during March 1st to 8th."
Companies offering Cadou Pass gift vouchers benefit from a deductibility value in the 2% law established limit regarding staff wages costs. Cadou Pass gift vouchers benefit from very important exemption from wage taxes, both in terms of employer and employee, within the limits of law. Employees who receive gift vouchers benefit from a network of approximately over 60,000 retail units where they can purchase the desired gift.

More than 40% of female employees who receive Sodexo Gift Pass vouchers around March 8 intend to buy cosmetics, while 18% want to buy outfits and 7% choose jewelry.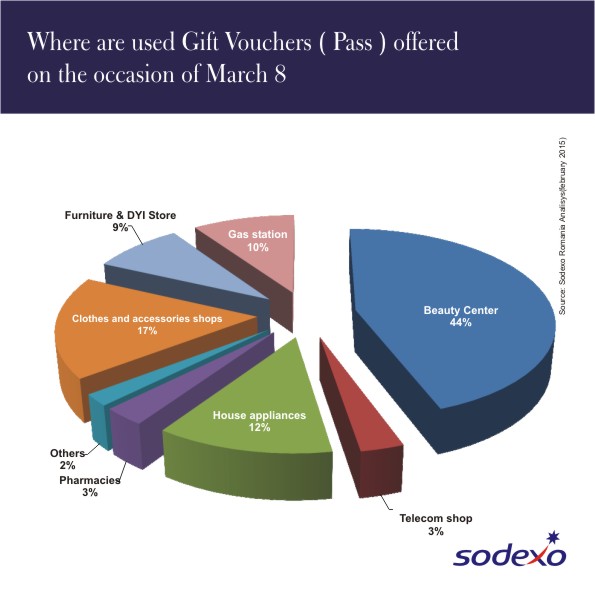 The medium value of gift vouchers offered is 150 lei/ event

For gift vouchers offered by companies to their own employees within the limit established by law, the individual does not pay social contributions (HIC, contributions, leaves and allowances, contribution to the Guarantee Fund for payment of salary receivables, health fund, unemployment fund, and accident insurance fund). Gift vouchers are subject to income taxation, currently at  only 16%, paid by the employee.
Currently, the law sets the maximum amount of gift vouchers offered by companies to 150 lei per event. Most companies reward their employees with the maximum deductible amount.
Sodexo in Romania
Sodexo, world leader in Quality of Life Services:
From 1998, the Romanian Sodexo Group, which currently has 630 employees, offers services that improve Quality of Life:
- Benefits for Employees:
- Incentive Programs
- Public Benefits
- Food / catering services
- Facilities' Management.
Sodexo, world leader in Quality of Life Services:
The Sodexo Company, the 18th worldwide employer, was founded in 1966 by Pierre Bellon, in Marseille, France and is the global leader in services that improves Quality of Life.
Operating in 80 countries, the Group's 419,000 colleagues are sharing the same passion in offering services. About 75 million people benefits of Sodexo services.
We trust that a better quality of life increases the satisfaction and motivation of individuals, thus playing an important role in the organizations' performance, which are our strategic partners. 
Key figures 
• 18 billion euro in consolidated revenues
• 419,000 employees
• 80 countries
• 32.700 sites
• 75 million consumers served daily