Servathon 2014
June 30, 2014
Sodexo Romania joined also in 2014 the international campaign SERVATHON 2014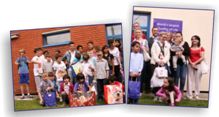 Every year for the past 10 years, Stop Hunger's Servathon has provided an opportunity for everyone to join together to fight against poverty, hunger and malnutrition.
Over a two-month period (April-May), Sodexo's volunteer teams throughout the world work to serve people in need. Providing thousands of free meals, holding food drives across the world, supporting communities through the sharing of knowledge by Sodexo experts with non-governmental organizations and associations: that's the spirit of Stop Hunger's Servathon.
Sodexo Romania joined also this year the international campaign Servathon 2014 developed in partnership with Stop Hunger Association.
For over a week Sodexo employees volunteered with the purpose of raising funds and products for the children in need that are under the care of the Metropolis Foundation. Besides the basic needs products (food, hygiene products, office supplies, etc.) each child received also a gift containing what he/she wished for. The gifts were offered to the children with the occasion of 1st of June party.
Sodexo Romania in partnership with Stop Hunger Association has been developed activities since 2003, contributing to the donation of impressive quantity of food in the benefit of persons living in poverty in Romania: over 8,000 packages with necessity food (each pack containing basic food for one family to cover the necessary for one month):
- over 8 tons of sugar
- over 8 tons of oil
- over 8 tons of flower
- over 8 tons beans
- over 8,000 of cans of green beans
- over 7.5 tons of rice
- over 8 tons of corn flower
- over 45,000 meet cans
-over  300,000 yogurts