Sodexo: Up to 30% of the meal vouchers will be issued on card format in the next 3 years
July 02, 2015
Sodexo announced the trend regarding meal card evolution in Romania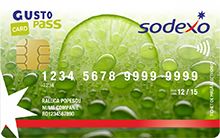 Bucharest, July 02, 2015 – Sodexo, top player in the Romanian voucher industry, identified a series of trends regarding the companies' interest in using electronic meal vouchers, after conducting a study among its partners. Starting this year, Sodexo is issuing Gusto Pass electronic meal vouchers, which allows the employers and employees to opt for either electronic or printed vouchers.
Most of the companies who expressed their interest to offer meal vouchers in electronic format to their employees in the following 12 months are tech related. The first companies who will be using the vouchers on card format are from industries such as IT, telecommunications e-commerce, Business Process Outsourcing (BPO) and call center.
Sodexo estimates in the first year since launching the electronic vouchers about 8% of the total meal vouchers will be issued on card format and in the first 3 years the volume of electronic meal vouchers will reach 30%.
"Under the concept Tehnology for Humans, Gusto Pass electronic meal vouchers enable the companies and employees to use the newest technologies and also simplifies the voucher user experience and the distribution process", according to Jean Istasse, CEO, Sodexo România.
The largest network of retailers
Sodexo already announced new partnerships with three main retailers: Carrefour, Mega Image and Profi, who will allow the clients to use the Gusto pass meal vouchers. The network of retailers that offer access to Sodexo Gusto Pass electronic meal vouchers covers now over 85% of the country's territory, thus becoming the largest network that allows the usage of electronic meal vouchers.
The network of affiliated will keep expanding, which means Sodexo will have the largest network for both the electronic and printed vouchers. Now the network of retailers that offer access to Gusto Pass electronic meal vouchers has over 66,500 retail units.
The Sodexo research was conducted in the May - June 2015 interval, on a sample of 3000 companies from Romania.
Sodexo in Romania
Sodexo, world leader in Quality of Life Services:
From 1998, the Romanian Sodexo Group, which currently has 734 employees, offers services that improve Quality of Life:
- Benefits for Employees:
- Incentive Programs
- Public Benefits
- Food / catering services
- Facilities' Management.
Sodexo, world leader in Quality of Life Services:
The Sodexo Company, the 18th worldwide employer, was founded in 1966 by Pierre Bellon, in Marseille, France and is the global leader in services that improves Quality of Life.
Operating in 80 countries, the Group's 420,000 colleagues are sharing the same passion in offering services. About 75 million people benefits of Sodexo services.
We trust that a better quality of life increases the satisfaction and motivation of individuals, thus playing an important role in the organizations' performance, which are our strategic partners.