Sodexo Romania wins first "Best Employer" certification offered by Aon Hewitt
November 20, 2014
Sodexo Romania wins first "Best Employer" certification offered by Aon Hewitt and becomes the first and only company in Romania having this certification

Bucharest, November 20, 2014 - Sodexo company, top player on the Romanian ticket market, of fringe benefits global leader in Quality of Life services, is among the first entities to be certified by the leading HR consultancy firm Aon Hewitt newly launched "Best Employer" Program, 2014 edition.
The Aon Hewitt program to nominate the best employers based on employees choice intend to compare organizations taking into account several factors differentiators to identify those that strive to create competitive advantage through their teams.  
 
"At Sodexo Romania, a company that works to benefit of people providing services that improves Quality of Life, it is understood that the level of engagement of its employees is the engine of performance for both Sodexo and our clients," says Jean ISTASSE, CEO, Sodexo Romania. "We are honored to be alongside Sodexo 16 entities certified by Aon Hewitt Best Employers Program. This distinction comes to point out that Sodexo Romania merit of being global leader in services is due equally motivated and dedicated team. "
Sodexo employees benefit from the same services and solutions design to increase the engagement and motivation that Sodexo provides for its clients with a large panel of extra benefits, rewards for good achievements and good working conditions.  The company management is also focusing its efforts on performance management, training and development of its people which is what the employees are expecting today.
The global program "Best Employer" recognizes organizations on four criteria's:
high employee engagement,

effective leadership,

high performance culture and

a compelling employer brand strategy.
The methodology is based on over 20 years of employee research experience at Aon Hewitt, including more than 10 years of local "Best Employer" Studies.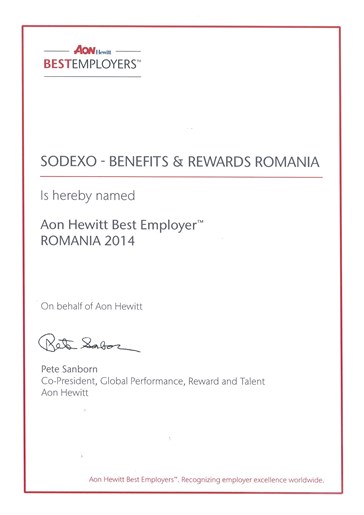 Sodexo Romania has been recognized as an Aon Hewitt Certified Best Employer based on the opinions its employees, measured against standards from the Aon Hewitt global employee engagement database. Aon Hewitt is the global leader in human resource solutions, with over 30,000 professionals in 90 countries serving more than 20,000 clients worldwide.
Sodexo, world leader in Quality of Life Services:
The Sodexo Company, the 18th worldwide employer, was founded in 1966 by Pierre Bellon, in Marseille, France and is the global leader in services that improves Quality of Life. We hope that a better quality of life increases the satisfaction and motivation of individuals, thus playing an important role in the organizations' performance, which are our strategic partners.

Operating in 80 countries, the Group's 419,000 colleagues are sharing the same passion in offering services. About 75 million people benefits of Sodexo services.
From 1998, the Romanian Sodexo Group, which currently has 630 employees, offers services that improve Quality of Life:
- Benefits for Employees:
- Incentive Programs
- Public Benefits
- Food / catering services
- Facilities' Management.