"Cleaner roads lead to safer roads and so together we can save lives!"
March 03, 2015
We can do it, Autoliv! – A greening initiative that will clean up the Lugoj Municipality ring highway.

Sodexo is a partner in the campaign initiated by Autoliv, entitled – "We can do it, Autoliv!", with the aim of cleaning up the ring road around Lugoj Municipality.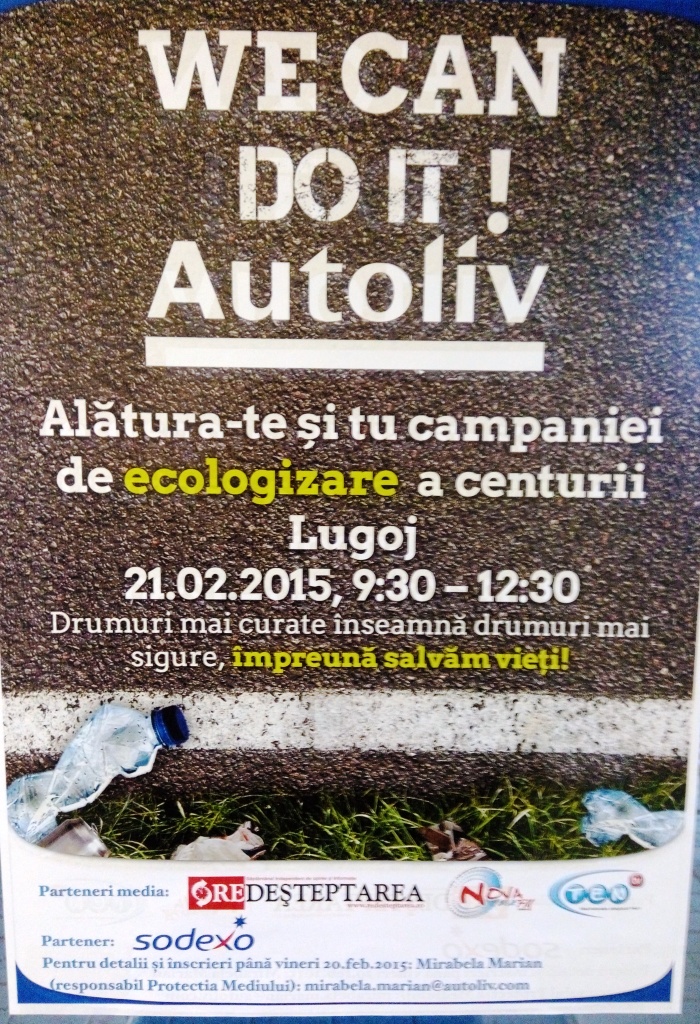 The idea behind such an initiative came to live as the two partner companies where willing to involve themselves in the daily life of the communities they are operating in. Thus, being willing to channel, disseminate and apply some of the core values that set the foundation of their corporate culture as well as their global experience (understanding) of the issue at hand.

An eco-friendly environment is one of the key priorities for Autoliv, likewise for Sodexo, whose employees want to transmit a message towards their community, through such initiatives cleaning local, heavily used roads, in the Municipality of Lugoj.

Autoliv's main purpose it is to develop products which by any means keep the passengers of vehicles safe. Their corporate culture, demands that their products and processes do not harm the environment in any way.

Meanwhile, Sodexo is worldwide leader in Quality of Life Services and it has made a reputation for itself, by winning numerous international awards for its efforts towards protecting the environment, becoming at the same time a prime benchmark in Corporate Sustainability, for its competitors. In 2015, Sodexo became the leading contestant in the competitive report "Sustainability Yearbook 2015", set out by RobecoSam. The company has been evaluated as the best performing, within its industry, with regard to its economic, social and environmental activities. Click here for details.
We hope the results of such a campaign will lead to a relative improvement in the quality of the lives of all drives passing through the ring highway of Lugoj Municipality.