Kiosks and Coffee Break Services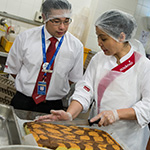 Eating is an essential part of daily life.
Sodexo develops and offers meal options to suit everyone's needs, habits and tastes.
For our clients who's employees are spending long hours in their offices of workplaces, and have little time in breaks, we offer a healthy alternative to a fast food.
In our Coffe Breaks and Kiosks we have a wide variety of snack choices, refreshing juices, coffee and tea products, yougurts and pastry.