Events planning and catering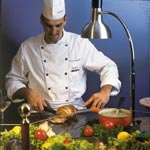 Eating is an essential part of daily life. We associate mealtime with pleasure, friendly conversation and, of course, good health. With this in mind, Sodexo offers a full array of customizable foodservice formulas.
In addition to planning and providing varied, wholesome, well-balanced menus, we help planning and organizing events, either corporate or private.
Catering
For our clients who need meals delivered at their offices, we organize catering.
Sodexo develops and offers meal options to suit everyone's needs, habits and tastes.