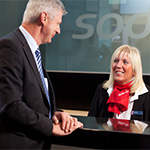 Reception
Your organization's reception area represents the frontline of your business reputation; a good first impression is crucial. Sodexo's highly trained and proactive reception teams will ensure that visitors to your office receive a highly favorable impression through their professional, attentive and warm welcome..
A Sodexo-supplied reception team becomes your team, with all the knowledge, skills and commitment of an internal team. Its duties will include managing the telephone switchboard, updating contact directories, ensuring access to parking areas and coordinating deliveries.
Your reception team members will receive regular training to develop and maintain their high customer service standards and enhance their skills.
Help Desk
We offer a dedicated Helpdesk service 24 hours a day, seven days a week, 365 days a year.
So, when a client contacts our helpdesk to report a problem or request a service, a call handler immediately logs it in the system.
We are quickly able to diagnose the scope of the job and allocate it to the appropriate supplier or on-site contact, as well as letting you know who'll be coming and when the job should be completed.