Exceptional student experiences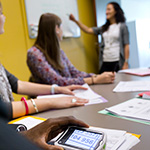 At Sodexo, we know that enhancing the quality of life on the university campus is crucial. Ensuring students' well being is an essential factor in academic achievement, which will lead to professional success later on. It also helps boost the reputation of educational institutions to attract and retain top faculty.
Attracting the most talented students
In France, Sodexo provides a comprehensive solution for the prestigious EDHEC business school. Through an original approach, we contribute to the global competitiveness of the institution by creating an exceptional learning environment. This partnership contributes to the school's ability to attract the most talented students and faculty from around the world. At EDHEC, Sodexo manages a boutique, concierge services and a full retail dining offer as well as campus facilities and accommodations.
Eating healthy foods at any time
Students have many competing demands from studying to their busy social lives, which means healthy eating habits and wellness may not always be a top priority. Taking these factors into account, our food offers always include a health and wellness option for sit-down meals as well as snacks, sandwiches and beverages. This ensures that our convenience and take-away options allow students to watch their waistlines and enjoy the pleasure of tasty meals at the same time.
In the United States, Sodexo promotes varied and balanced food options in its restaurants and a series of activities and programs that operators can implement with a focus on serving local menus. Programs include promotions, programming, communication and marketing tools to help educate, raise awareness and drive satisfaction for every consumer we serve.