24/7 maintenance interventions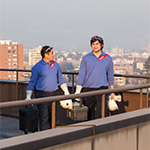 Hospitals have to be able to plan for capital improvements instead of reacting to problems. In addition, they need to keep daily operations humming—while keeping costs to a minimum. Sodexo maintains buildings to prevent problems from arising.
Building maintenance specialists
At Sodexo, teams in charge of maintaining hospital environments receive special training. We provide databases and online training modules to which our engineers and technicians can refer at all times. More than 128 courses are already available in the form of written or video tutorials to improve and update their skills.