Energy Resources Management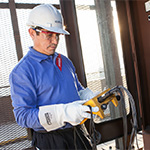 Energy management is all about balancing consumption, cost and environmental impact.
Sodexo's energy management services focus on reducing energy consumption, carbon emissions and associated costs through targeted analysis of a client's assets and how they are used. We identify processes, equipment and other assets that are energy inefficient or wasteful and design solutions to improve performance, without compromising employees' comfort or safety.
Our services include:
• energy and carbon audits
• infrastructure upgrades
• monitoring and reporting
• utilities management
• project design
• strategic planning.